This is something I've been keen on for a while – having people who use the table actually build something.  Perhaps something they can take away physically or digitally.  Generally these ideas have been things like curate their own exhibition, create a customised newspaper or create a top ten of favourite people / things.
Touch tables are fantastic for not only viewing photos, but also for manipulating them.  So a natural fit is a collage application – although it's taken me a while to get round to building on.
Here's an early version of a collaborative collage application.  This isn't a million miles away from Photo Collage apps available on iPad & Android but the combination of scale and unique content make this worth developing further.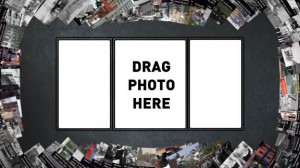 It allows a group of people to handle and select photos from those presented.  These get dropped into the frame slots in the centre of the screen.  The images can then be zoomed and panned to focus on the desired section.  Next the a number of graphical effects can be applied to the individual photos (e.g. sepia, black & white, cartoonise etc).  It is planned that the final result could be uploaded directly to twitter.
I'm also experimenting with making it more game-like – well at least giving it some direction.  So that the 'players' are presented with key-words with which to inspire their collages.  Feel free to tweet me some ideas for these 🙂
Later versions will have alternative frame arrangements and perhaps allow users to customise some aspect – e.g. use twitter to upload a central photo or have the table take a photo of those around the table.
This prototype application may make a sneak preview this Friday 15th August at Birmingham Museum and Art Gallery.  We'll be testing an updated version of the BrumPics Twitter App in the Birmingham Histories Gallery all day (and I might try to sneak in a little trial of the PhotoCollage application).