Wow – it's just 2 weeks until Ecsite 2018 in Geneva.  Ecsite is the largest science communication conference in Europe and is where the worlds Science Centre professionals gather to sharpen their critical mind, recharge their batteries and let off steam on the dance floor – their words not mine 🙂
I'll be returning for my 3rd year to assist in the pre-conference workshop on Live Action Games on Tuesday 5th June and also to be part of a panel session on Escape Games where we're going to have the entire audience playing and deconstructing games in 90 minutes.  We must be crazy!  I'll also be generally helping out in the GameLab and sharing my game-making expertise on the topic of making real world games for museums and science centres.  I'll also bring along a portable Escape Game which you can come and play whenever you've a free moment.
Anyway – this all reminded me that I didn't blog about last year's conference in Porto (among a hundred other things I didn't blog about).  However, writing up lasts year's event suddenly seems strangely more appealing than preparing for this year's one 😉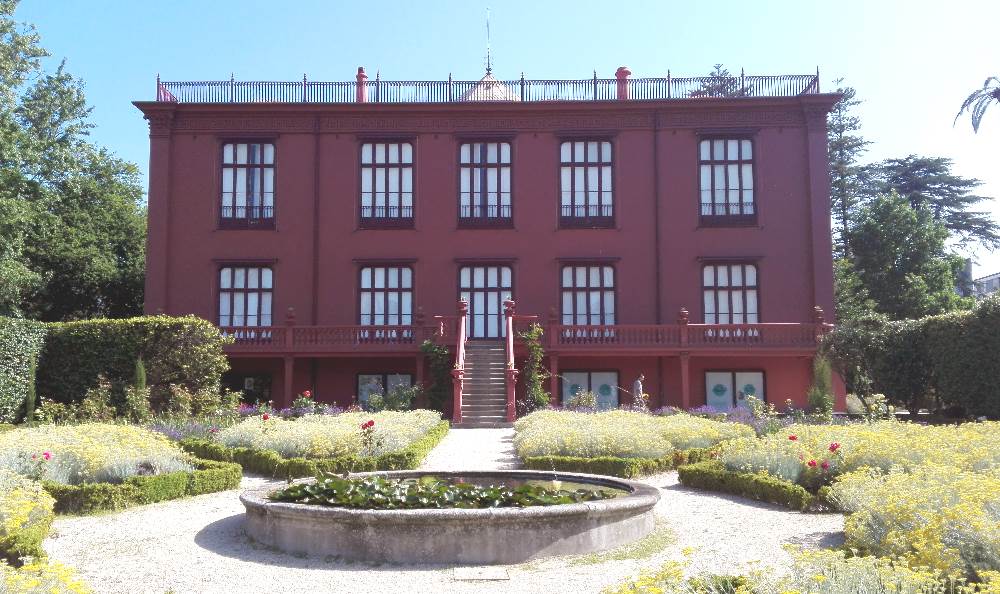 Ecsite Pre-conference 2017: Making Good Museum Games
So the game making pre-conference workshop: 'Making Good Museum Games' was arranged differently last year.  Firstly, it was organised by the wonderful Kate Kneale who as well as managing the pre-conference also runs the GameLab – a very popular game making space that exists throughout the conference.  This year Kate is focusing on the GameLab.  Secondly, we had two days – this year there are still two game making days however they work much more independently. You can read more about the session here or see our more detailed programme here.
Last time attendees could come for either day or ideally both.  Having two days for the workshop meant that we had time to create entire games that could be played by the conference attendees.  And indeed they were – they could be played during the week in the GameLab or at the Friday night Nocturne party.  Both our pre-conference workshop and the Nocturne Party took place at the Jardim Botânico do Porto (Porto Botanical Gardens).
Day One
On day one we spent the morning getting to grips with the idea of games in galleries.  This included each of the organisers demoing particular in-gallery games and having the participants play & deconstruct them.  We were also fortunate to go on a tour of the new galleries at the Botanical Gardens.  The galleries inside were in the final stages of renovation – although there are absolutely beautiful – much closer to an art gallery than a science centre.
After lunch we formed 3 teams and each decided on their type of game and its general location.  We did toy with the idea of making a game for the outdoor garden area but instead we focused in the beautiful gallery spaces.  We decided on building a game that we could fully prototype within the short period and focused on an audio game linked to Charles Darwin and his work with Half-Lop Rabbits from the Portuguese island of Madeira.  The other teams created an Escape Room style game and a matchmaking game.
It was slightly more difficult as the beautiful new galleries were not quite ready for the public and they were still putting the finishing touches to everything.  So you can imagine how pleased they were with us running around the place trying to make games in their galleries.  To be fair they were very helpful but it would have been much easier to develop games for a completed space.
Day Two
Day two was about getting down to the game production, building our prototype and then playtesting it.

In our game, Darwin's Rabbit, players begin by first tracking down the old man with two rabbits (who – SPOILER ALERT: turns out to be Charles Darwin).  He sends you on a series of quests to meet other animals around the museum.  There are simple questions to answer based on the objects in the cases.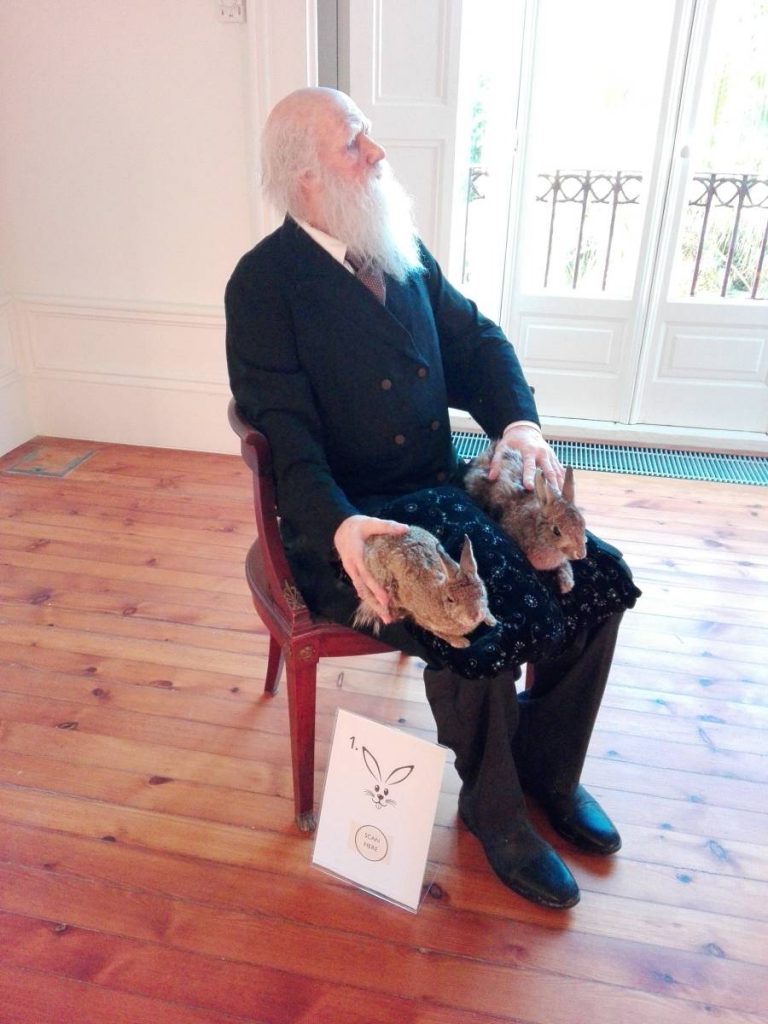 The model for creating the audio game followed very much my Babbling Beasts tutorials.  This is where pre-recorded audio can be triggered using Near Field Communication (NFC) cards.  All the audio creation happens on the mobile phone and no WiFi is required to play the game.  It's really about as simple as game-making can be!
The Audio
It's difficult to recreate the game without the fantastic environment of the Museum however here is some of the audio created for the game.
01: Game Intro:
02: Meet Darwin:
04: Meet Moth:
06: Meet Whale:
08: Deer:
10: Return to Darwin:
GameLab & Nocturne
As we wanted to show the game during the GameLab I converted it to more of a board game trail.  It allowed visitors to the GameLab to play parts of the experience without needing to go to the Botanical Gardens.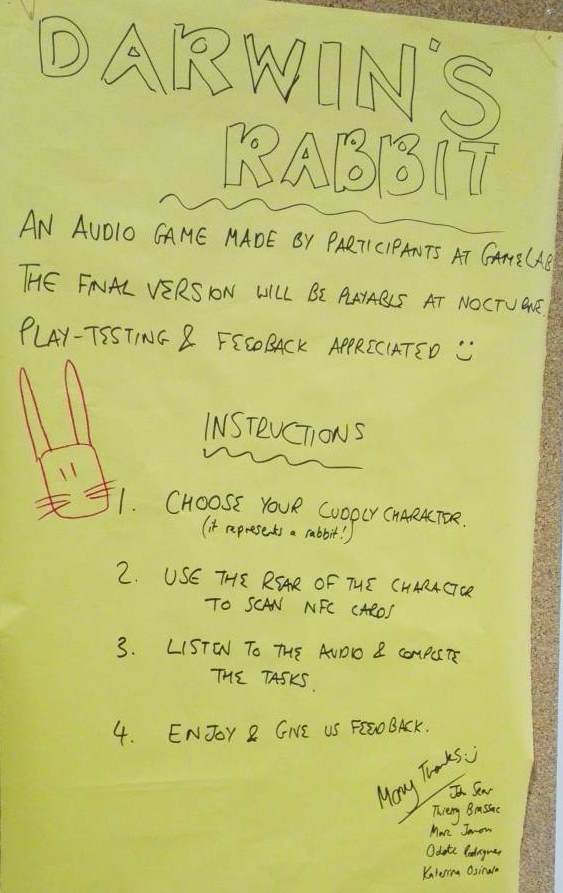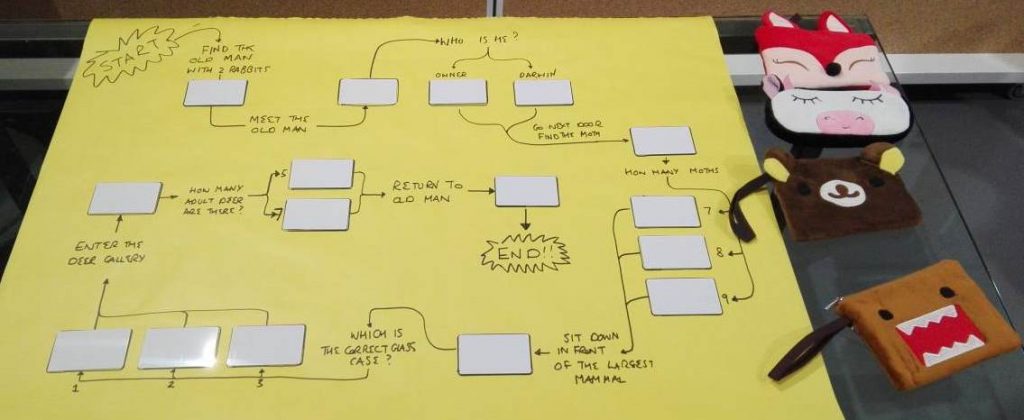 On the Friday afternoon a few hours prior to the beginning of the evening party Nocturne we installed our audio game at the Botanical Gardens.  We also set up enough Babbling Beasts so that 5 teams could simultaneously play the game.  Each Babbling Beast is a pouch containing a NFC-enabled android phone.  Given it was taking players around 30 minutes to play through – multiple copies of the game meant that we could handle the enormous player demand 🙂 Actually, to be fair, the games were played pretty constantly througout the event.
I'm taking rather too much credit for this game – it was my role to mentor the team and handle the technical setup – the real work of scriptwriting, puzzle creation and voice acting goes to the team of: Odete Rodrigues, Marc Jamous, Thierry Brassac, Katerina Osinova and Paula Costa.
Next Time
If we did it again, I think it would have been better to create games specifically for the Nocturne Party event.  It turned out that the majority of the event took place outside (pretty obvious with their great Portuguese evening weather).  Also, all the food and drink was outside – you need to create pretty astounding games to lure people away from the free wine 🙂  And finally there were different food / drink stations around the grounds – we could have absolutely used these locations in our games.
You can easily create your own version of these audio games in just a few hours by following the Babbling Beasts tutorials.  Check out the advanced section for ways of creating murder mysteries, combination locks and using 3D printed characters (instead of mobile phones for the triggers).