Agent in a Box – spy thriller game / theatre experience
Some time ago I was collaborating on an exciting real-world game 'Agent in a Box' with interactive theatre company 'The Other Way Works'.  The observant among you may have already found (one of the very few) blog posts I wrote about this very project.  Back then we made a simple 10 minute prototype that illustrated the core concepts and allowed us to test this original idea with players.
It started out as a single-player experience set in a hotel room where the player provided back room support to a spy having dinner with the 'mark'.  The player has a collection of spy materials and a 'burner' mobile phone in order to text / call other game characters. All the characters you connect with are Non-Player-Characters (NPCs) so fictional characters portrayed by the game system.  We've recorded voice actors to make the interactions with these characters feel realistic.  The theme and story of this prototype was very much entwined with the site-specific work 'Black Tonic' by The Other Way Works.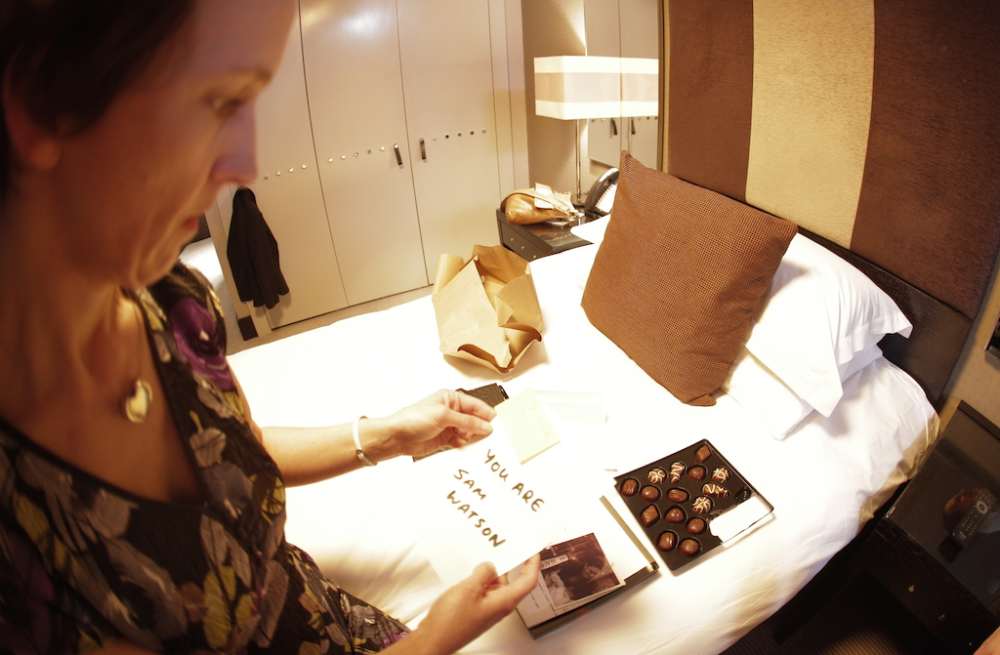 One of the original goals of the prototype was to take story from 'Black Tonic' to a wider audience – so we were considering the final 'thing' to be a boxed-product that you played in a hotel room.  So perhaps if you were away at a conference.
Even back then – I often thought of it as a locked-room puzzle that you could take-away with you.  The mixture of puzzles and physical objects (feelies) against a time limit shares many similarities although we were at the very theatrical end (thanks to collaborating with a theatre company!)
Due to distractions of other projects it's taken a while to get back to this.  It was an idea that we always really liked and received great feedback on – but we needed to find a way to take the next step.  That next step came in the funding support from Arts Council England! Our goal for this phase was to take what we had learnt and build a more advanced prototype with a running time of 30-45 mins.
The reboot
The funding allowed us to step back away from the project a bit and consider it afresh.  What were the aspects that we loved and were core to the experience and what could we change?
We loved making the player feel like a spy and being in unusual surroundings
The connection with the game-world via the burner phone (our game controller) was core
The player simultaneously focusing on understanding the story by juggling the real objects and information that comes via phone.
It should be a real-time, fixed length experience
Our early tests showed that the game was much more fun when we made it a pair experience rather than the scary solo one.
What areas could we improve on?
Could we have multiple pairs playing simultaneously (and if so how would they be connected)
Are there other stories that might be more appropriate to the spy theme?
Could we combine this with live actors?
Would this be better suited to a festival environment or installation
Is there an alternative location to the hotel room that would work better?
I don't want to give away too much at this time – but the answer is yes to all those questions!
Where are we up to?
We used these guidelines to collaborate with writer Tim Wright (who specialises in interactive storytelling) and were able to develop a completely new story and story world – hence the name change to 'A Moment of Madness'
We've spent the summer months building iterative versions of this experience (and hanging out in public car parks – slight spoiler-alert!).  We've been able to run a number of test days in Birmingham – thanks to the fantastic support of Birmingham Open Media and are ready to show the prototype to a wider public at the Waterman's Digital Weekender on Nov 12 / 13 – if they are still available you can get tickets here.  Running time is approx. 1 hour.
"On the eve of the vote on radical new legislation to combat climate change, the revelation of a politician's clandestine rendezvous threatens to destroy the coalition and scupper the bill. Your job is to make sure this doesn't happen. Stay in your vehicle. Report everything."
Probably by the time you read this we'll have already finished those shows – so stay in contact if you're interested in what happens next.  We're hoping to find further funding to continue the development, with the premiere happening in Birmingham in Autumn 2017.