I've just returned from a fantastic week in Copenhagen at the 2019 Ecsite Conference – Pushing Boundaries hosted at The Experimentarium in Hellerup.  It was my 4th Ecsite, having contributed to previous Ecsite conferences in Graz, Porto and Geneva.  Here's some details from Ecsite 2017 in Porto where in 2 days we built an Audio Game, Darwin's Rabbits for their Botanical Gardens.
Here's a list of my Ecsite involvements over the years.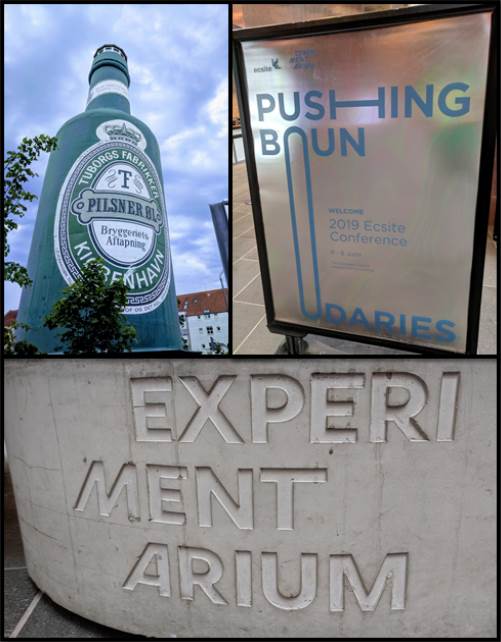 We're jamming!
Ecsite has always had a big appeal for me – not only due to the exciting talks on the Main Conference but also for its pre-conference.  These are the two-days before the conference-proper begins where people can pitch to run 1- or 2-day workshops.  Normally at museum conferences workshop sessions are limited to 45 minutes or maybe an hour and barely enough to scratch the surface of a topic.  The Ecsite pre-conference is a fantastic way to get much deeper into a subject and allows us to run more crazy events which are more akin to GameJams!
It's obviously a huge undertaking of those who volunteer their time to organise and run but it's great to be involved in some of the amazing projects that have come out of these pre-conference sessions.  And hopefully once again we'll kickstart some amazing game discussion and creations across Europe and even further afield.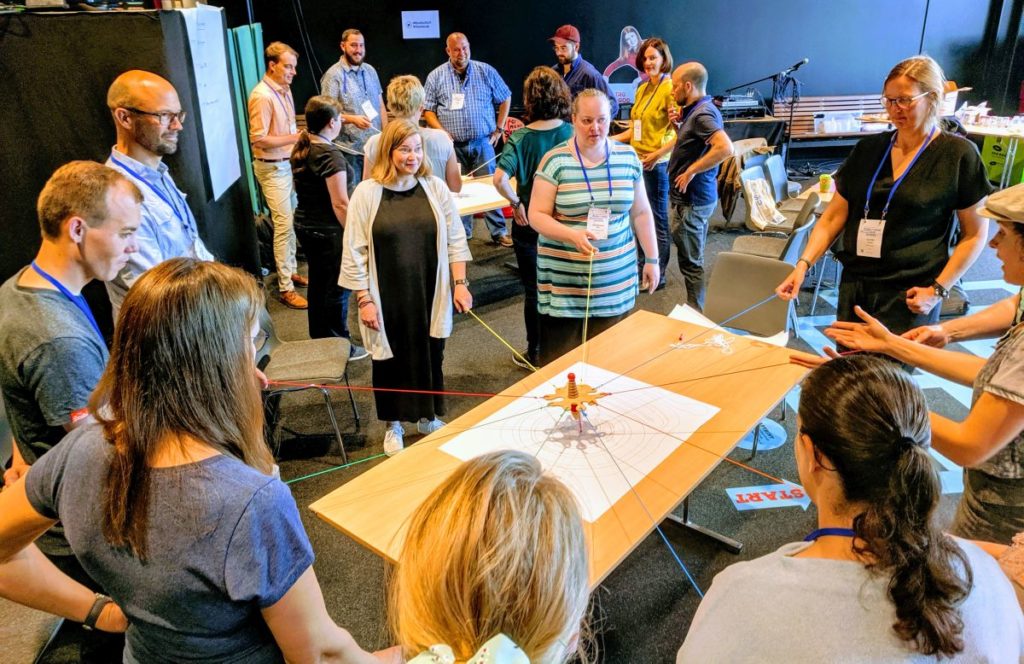 So, before I begin – a shout out to my fellow GameLab volunteers who put in a huge amount of time and energy (before & during) to make our pre-conference, main-conference and fringe events a huge success every year:
Kate Kneal, Malvina Artheau, Ran Peleg, Daniela De Angeli and this year's newcomer Rannei Simonsen.  It's wonderful to be part of such a talented and dedicated team who are willing to share their time and expertise with conference attendees.
The 3 top facts from my trip:
An astonishing 55% of commuters travel to work by Bike.  I absolutely loved how safe it was for biking commuters and families to  (even with our newly opened Blue Bike paths – we've got a long way to go in my home city of Birmingham)

The weather is not nearly as stark and oppressive as Scandi-Noir series such as The Bridge might have you believe (but if you've not watched it – you have my full permission to stop reading the rest of this post and go find it now – at the time of writing Series 1 is on Amazon Prime). In fact most of the conference was in brilliant sunshine and I could have done with it being less humid if anything!

Copenhagen has an absolutely world-class Science Centre in the form of The Experimentarium. Probably the best one I've ever set foot in. A purpose-built centre designed by CEBRA, on a previous Tuborg bottling plant in Hellerup, a few miles North-East of Copenhagen centre.  (I couldn't find the cost of development – I did find a list of big donors and that its original budget was 54M Euros (+VAT) – although that was based on a 2015 delivery date so I suspect substantially more than this – the space certainly felt it!).

Happy Birthday Ecsite!
2019 was a special year for Ecsite – 30 years since 100 Science Educators first gathered in The Hague for the first ever Ecsite. It was also the the first time in my visits that Ecsite took place outside of a standard Conference Venue.  This was a huge attraction to attending this year – almost every aspect took place in one location and that location was The Experimentarium.  Usually we are shuffled around between numerous venues – not necessarily a bad idea – but it was great to have a home for once.
My Involvement
So for the past four years I have been involved as part of the GameLab core team.  The GameLab can be thought of as a fringe event to the main conference. It is a single space focused on play.  Sometimes it is a place for talks, workshops and demos (often those that prefer a more unusual location) and other times it is a drop-in location where attendees can relax from the main conference, play some games (either Science / Museum focused or more regular board games).  And usually if you drop by you'll find Game Designers / Developers working on their own projects or happy to help you with yours.
This year I was involved in: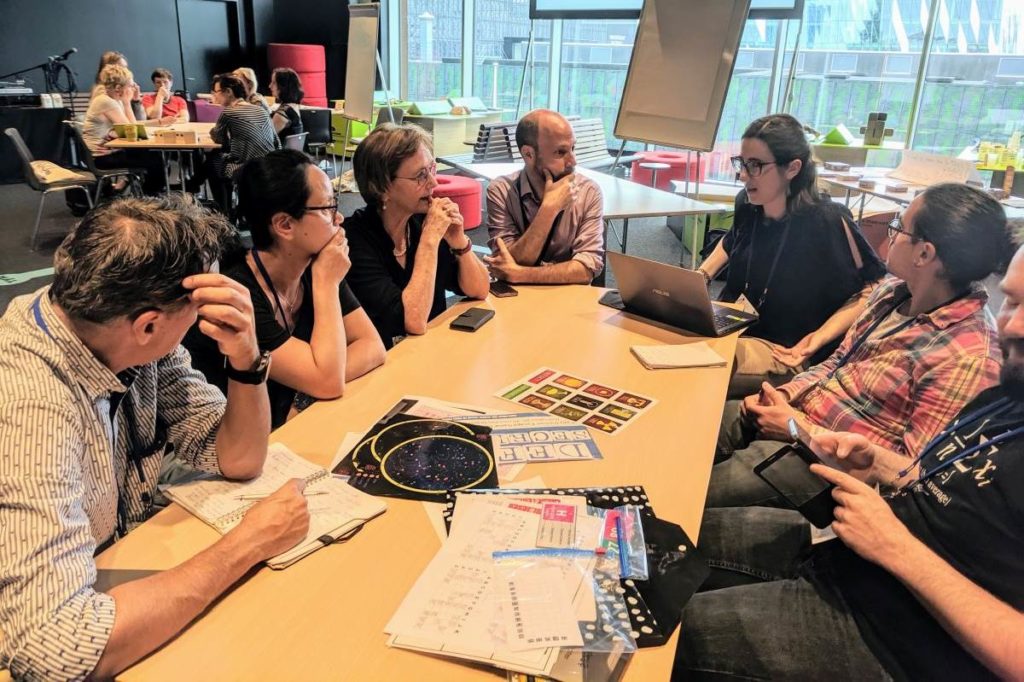 As you can see it was pretty non-stop for me.  And I must have upset someone in the scheduling department as I had a 9am session every day!  I think it's worth going into more detail about the Museogamix workshop and 'The Escape Game Demo' Session.
Museogamix – 2-day Workshop
I referred to this two-day workshop as Game-Jamming but that's a bit of an understatement really as to what is involved (not that it's straight-forward to host a Game-Jam).  The pre-conference is much more structured than a typical Game-Jam.  Our goal is to guide teams to develop a complete game that can be played by the wider conference attendees during Nocturne.

Day 1
We don't assume that anyone has any games or technical experience when they arrive.  We spend the first half of day 1 – playing and deconstructing different games and technologies.  This year that was two Escape Games, a variety of board games and a number of social games.  Ran and I both presented our own Escape games.  Ran's focus is on a game designed around science – so actually mixing chemicals in order to complete puzzles.  While mine is a table top game using a variety of technology & puzzles – so it functions as a good way to begin some simple DIY technology training, based on my series of free museum tutorials.
After lunch we start to introduce the venue and the problems that we'd chosen as starting points for this year's games.  Our problems revolved around awkward spaces:
Entrance Halls (& bringing strangers together)
Queues (tickets / toilets / interactives / buffets)
Hidden treasures (the bits that the public miss)
Outside to In (how do we get people in & connect with other cultural spaces)
Connecting Exhibits (can we chain exhibits together)
Learn the Space (take players on an unusual tour to teach them the building layout)
This process forms as the basis for team section and idea creation.  We let the teams come up with their own ideas and then we work as consultants and sounding boards for the teams as they try to hone their games.  In some years we have been a bit more hands-on and joined the teams to push them along a bit – but the teams we working so well together this year we supported more from the side-lines rather than disrupt their flow.
By the end of Day 1 we hope that each team has a reasonable idea of the game that they will build on Day 2.
Day 2
This year Kate and Daniela joined us on Day 2.  This was a good way to introduce some new energy into the development.  They were able to talk about their own practices and give the teams new ideas.
After this – teams presented their games back to the entire group.  This enabled us, the organisers, to have a much better understanding of where they were after an evening off to think about their games.
Then the focus is on making – we float amongst the teams – hopefully giving them enough time to work on their ideas but with us available to nudge them along the right track and where needed get involved either in the technology or game design mechanics.
Soon after lunch teams prepare their games for play-testing with other teams (and organisers) giving valuable feedback.
The final sprint is taking this feedback and preparing something that is playable at Nocturne.
We were fortunate to have an amazing group of attendees who went on to make 4 different games that were all successfully played at Nocturne (those games are for another post – or I will link to them if the teams write about them).  On graduation of the Museogamix – all attendees are welcomed to the GameLab family (totalling well over 100 now) and are able to get involved in future years.  Perhaps we will pass the GameLab baton on to some of those in the near future.
The Escape Game Demo
I think this session is invaluable to attendees as while many are familiar with an Escape Game – it's still a big leap to what a Science-focused one would look like.  This is an opportunity to play one and to hear some of the details of how we constructed this.
We rand a similar experience in 2018 and it was hugely popular – even in a space well off the beaten-track we were hugely oversubscribed.  In 2018 – all the organisers brought a selection of their own puzzles and we assembled them together to make a new game.  It was important to us that the 2019 version used an entirely different set of puzzles and technology.  This was to ensure that we were showcasing the latest Escape Game thinking as well as providing an entirely new experience for any returning attendees.  This year we adapted an existing Escape Room based on the Periodic Table built by the Weizmann Institute of Science – I'm sure you don't need me to tell you that 2019 is the International Year of the Periodic Table.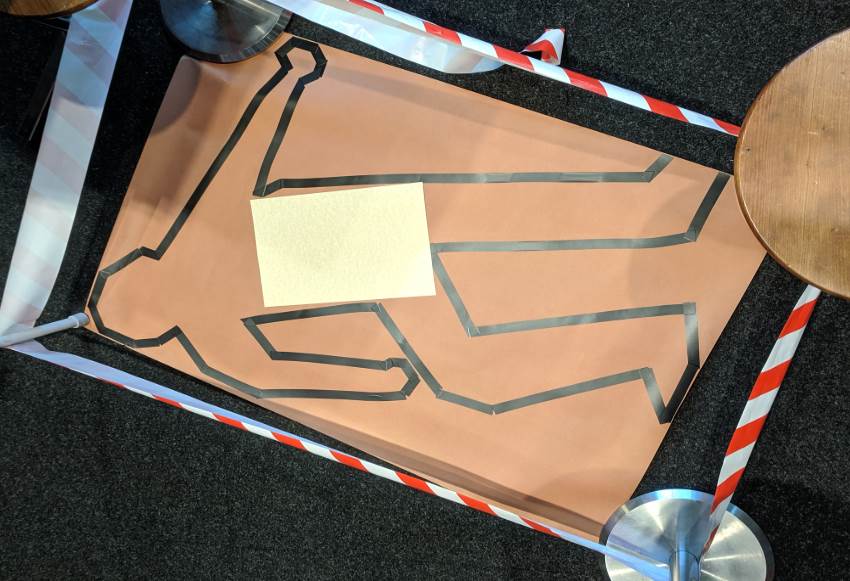 This session was presented by Dr Ran Peleg, Dr Malka Yayon, Dr Shelley Rap and myself.  Malka and Shelley had built the larger Periodic Table Escape Room which we were able to reduce down and both Ran and myself added elements of technology.  While the original game has 18 puzzles to solve, this version had just 9.
What makes this interesting is the format for puzzle solving:
It has elements of collaboration and competition. We organise the attendees into 4 teams and assign them a colour.  All teams are playing in the same space – but are only looking for game items that have been tagged with their team colour.  This is something that you can't really do in a traditional Escape Room – as it breaks the immersion when you stick coloured dots on everything.  However, it is completely acceptable in a popup room.
All puzzles are available at the beginning of the game. Normally, puzzles lead to on to other puzzles to provide a sense of progression but in this case, all puzzles can be solved just as soon as you find the game objects.  Instead we used a score-board to allow players to both check their answers and keep a sense of how well their team is doing.  So, there is a competitive edge as you want to see how well you are doing against other teams in the game.
Towards the end of the game – all players come back together to solve the overall puzzle. In this case it was a murder that had taken place at Nocturne.
I contributed two pieces of technology:
Phones & NFC (similar to my Babbling Beasts tutorials) for some musical audio clues where players have to guess the element from the distorted song they listen to.
Overriding scoreboard and correct answer feedback. One of the issues with having all the puzzles (potentially) available from the beginning is that the answers don't feed into the next puzzle – so players aren't entirely sure that they have the correct answer.  The scoreboard application (that I built in PowerPoint – although somewhat more advanced than the free tutorial here) allows players to enter their guesses as they go.  This provides feedback as to the correct answers but also creates drama in the room as to teams being able to see how they are doing in comparison to other teams.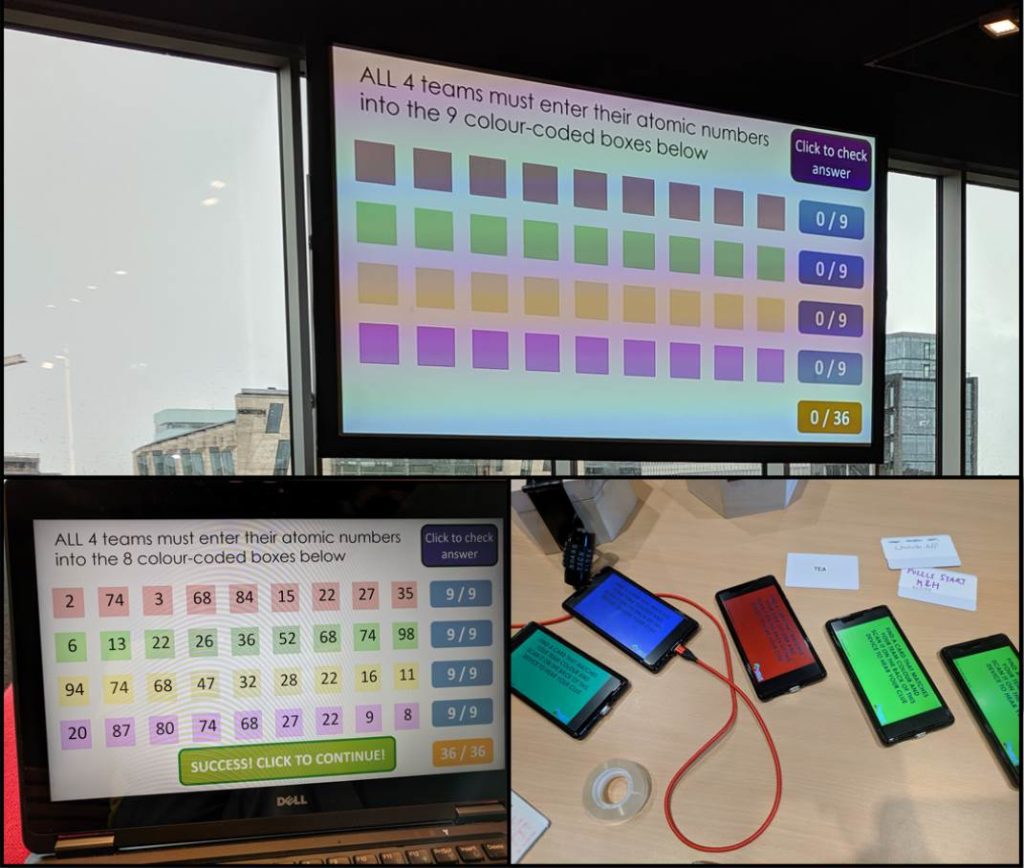 The session finishes with a brief discussion of how everything works and how attendees might wish to use the puzzles & technology in their own venues – either within Science Centres or on tour away from their venues.
Next Ecsites in 2020 & 2021?
So Ecsite have already announced the next two conferences for 2020 and 2021.
– although neither is set within a Science Centre – hopefully the pre-conference will be located at one to give us some existing materials for pre-conference workshop inspiration.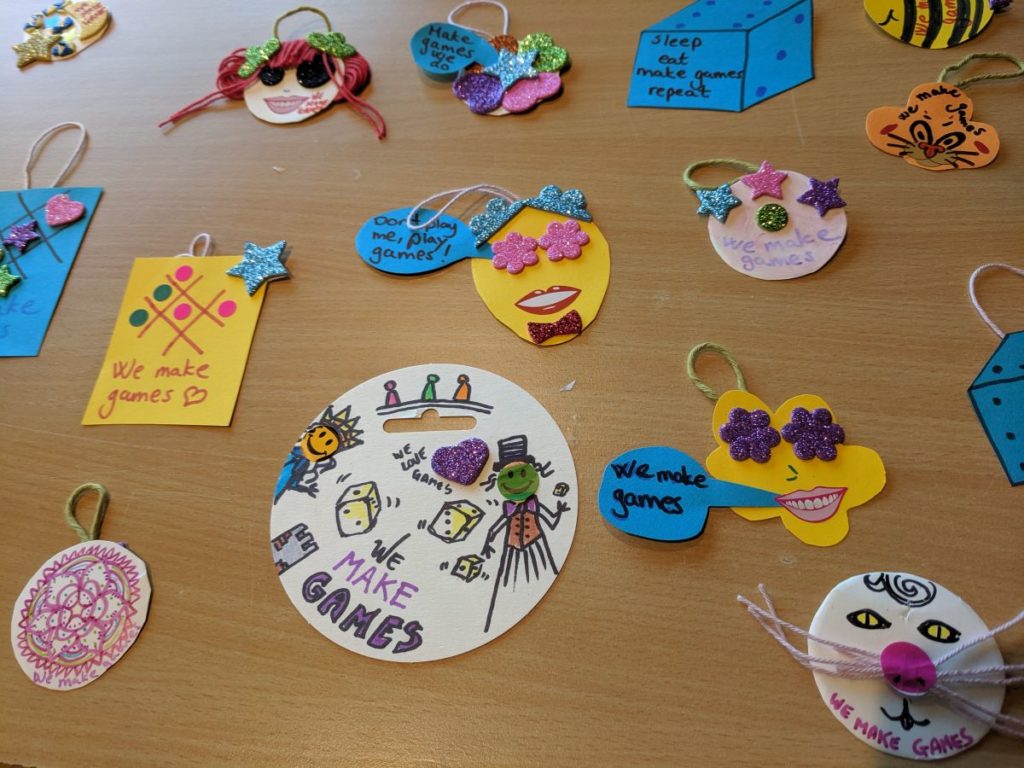 The GameLab team are already discussing how we might be involved in these next conferences or whether it's time to allow new volunteers to take over.  So, if you are in any way interested in games and science then please get in contact and I will talk you through how to be involved in future years.
Overall a fantastic week and I loved Copenhagen (and my short escape to Malmo) but didn't make it to Tivoli Gardens this time – so hopefully not too long until I get to visit again.