I came across this old images by chance. They are a random collection of old projects where I was experimenting with less game-like experiences and more of being a digital-artist. I think it was somewhat a failure as I quickly gravitated back to my comfort zone of more game-like things. What they all have in common is a way for the player / user to create something artistically expressive but quickly and with less effort.
VanGoYourself (Revamped) Digital (2014)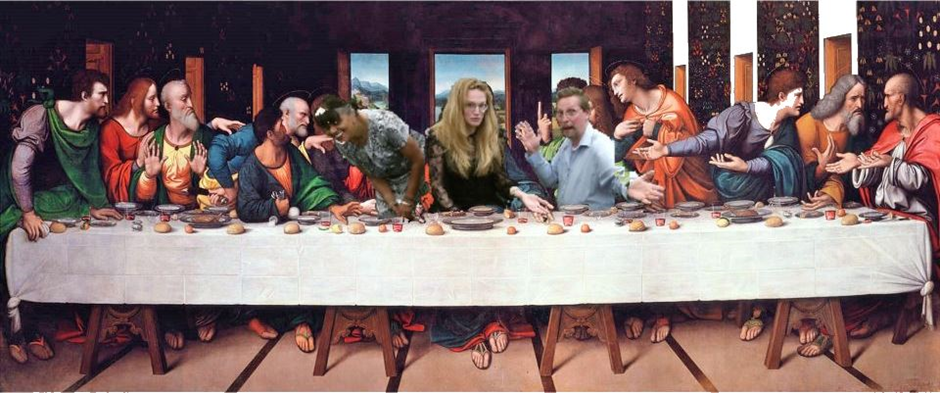 I am a big fan of involving the participants in galleries in the creation of their own work – as can be seen from many pieces included on this portfolio.
This idea is the digital version of the very succesful 'VanGoYourself' project which itself was based on a classic art-school activity of recreate a famous artwork with other members of class.
Obviously it takes time to assemble people and all the props required. My Revamped digital version using famous art pieces that are separated into layers and allow the participants to pose in between. It could be described as a high-tech version of the classic British seaside 'Head in the hole' cut-out boards.
The technology that allows this to happen is the Kinect for Windows V2 sensor along with a bespoke application. Using its depth sensing camera the Kinect can create a Chroma key effect but without the additional effort of setting up the green screen.
While this was a fun activity to participate in and had the digital advantage of speed of creation I felt that this version it lacked the 'creative expressive' of the analogue version and hence was only shown a limited number of times.
Shown: Digital Heritage Hub University of Birmingham, 2014
Hacking the Archives (2014/15)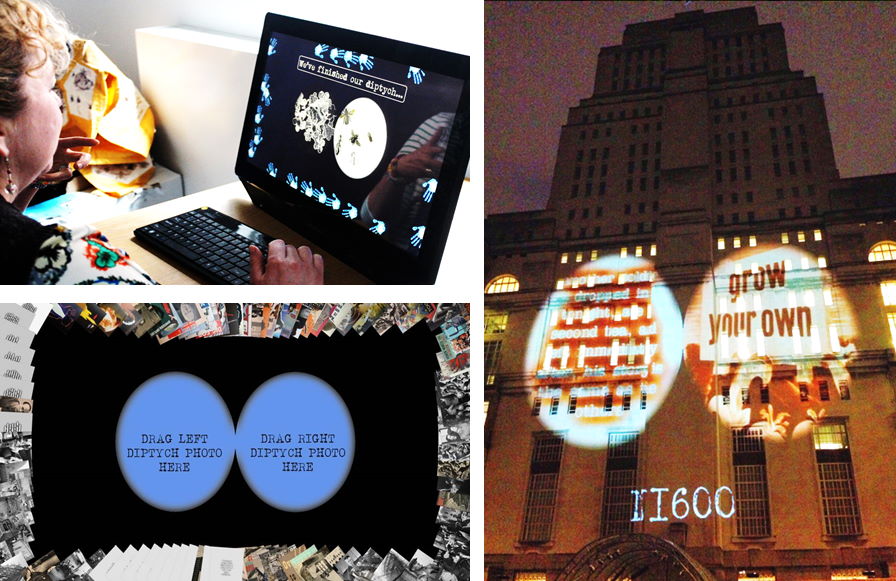 A collaboration with Jaime Jackson of The Salt Road using the archives of Mass Observation Archive and the Ministry of Information. The Mass Observation Social Research Project (1937-1949) includes a collection of volunteer writers recording regular data about their lives through questionnaires and diaries.
We wanted a way for visitors to interact with this content in a fun, engaging and creative way. In a matter of minutes you can create your own Diptych artwork by selecting images and quotes from the archive. These images can be tweaked, scaled and rotated and image filters applied to create something completely unique.
During the live creation of this – we projected the results. For example onto the side of Senate House as part of the Being Human festival. All the creations were also shared online automatically via twitter and tumblr.
Shown: Prototyped at Birmingham Museum and Art Gallery, September 2014 Mozilla Festival, Ravensbourne, November 2014 Projected onto the outside of Senate House at Being Human Festival, 2014 Bloomsbury Festival, Senate House, 2015
Choose Your Own Art (2016)

An idea to replace a hanging picture in a gallery when it is unavailable such as being out on tour. Some of the most famous pictures are in high demand and are shared with other galleries around the world. It is then a question is what to show in its place. In ChooseArt a projection or screen is in erected in place of the original artwork. Visitors to the gallery are able to choose what picture to show by tweeting a message at the screen. This allows the visitors to have control over the images on display via the @ChooseArt account.
In addition to just simply choosing their own image – more advanced options allowed the user to edit what was onscreen by combining images together and applying filters on top. Therefore involving visitors in the creative process. Participants also receive the new artwork tweeted in a messages back to them.
Extensions were proposed to allow users to upload their own content to integrate into the output image. Or to pair the screen with the gallery on tour so that visitors in another gallery could control the displayed item.
Shown: Wolverhampton Art Gallery, 2016
Twitter Poetry (2016)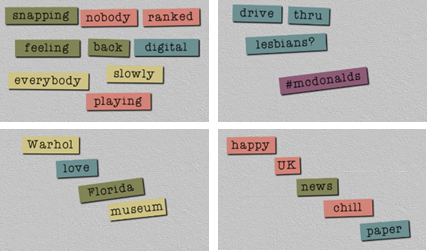 Twitter Poetry allows participants to create their own mini poems using only the words from other twitter users. It randomly selects a small number of suitable tweets from the twitter fire-hose and uses that to generate magnetic poetry words.
A touchscreen application asks the user a question which they can answer using the magnetic poetry displayed. The resulting response / poetry is tweeted out and the twitter users whose tweets were incorporated are also messaged.
Shown: Birmingham Open Media, 2016