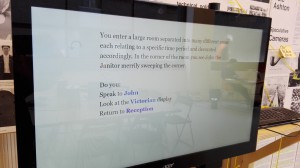 Introduction
Interactive Fiction (you might have experienced this as Text Adventures) are one of the oldest forms of videogames. Their roots can be traced back over 40 years ago to 'Colossal Cave Adventure'. You might also have enjoyed Interactive Fiction in book form with a 'Choose Your Own Adventure'.
While the heyday of Interactive Fiction (IF) has long since passed, it has seen something of a revival in the terms of Narrative Games (also known as adventure exploration games) such as Gone Home, Dear Esther and most recently FireWatch. These games focus on storytelling through interactions with the environment and objects. Those mentioned are 1st person games in beautiful 3D environments and take many man-years of development to develop.
The good news is that the tools for creating simpler narrative games are becoming ever easier to use. This project uses Twine to help you create an IF game set within your own museum. The results of this project be installed in-gallery or played online.
Trying out some existing games
Before making your own Interactive Fiction it's worth finding out what is possible in Twine (and perhaps play some IF games for the first time). Each year there is a competition to find the best Interactive Fiction. These IF competition entries can be developed in a variety of authoring tools. 2015 was the first year to have a number of entries created using the tool Twine. It's worth spending some time playing a few of these to get some idea of just what is possible. These games linked to below were all created using Twine.
Birdland came in 4th overall, Arcane Intern (Unpaid) was in 11th and Nowhere Near Single 14th.
I'm not suggesting that you'll be able to do all of this right now. Some of those games used advanced techniques. Even with the simple bits you'll learn in the tutorial you'll be able to make a very engaging experience.
Here are a few more Twine interactives this time examples connected with a museum from the 'Explore Play' section of the Wellcome Collection:
Note: It seems Wellcome has taken these offline. 
I've even hunted their cache on Wayback Machine - but no luck. 
Have emailed to see if they can resurrect these

Twine is a very flexible system and you can use it to build whatever Interactive Fiction you can imagine with it. However, for this project I'm taking inspiration from Tomorrow Exhibition at the Victoria and Albert Museum.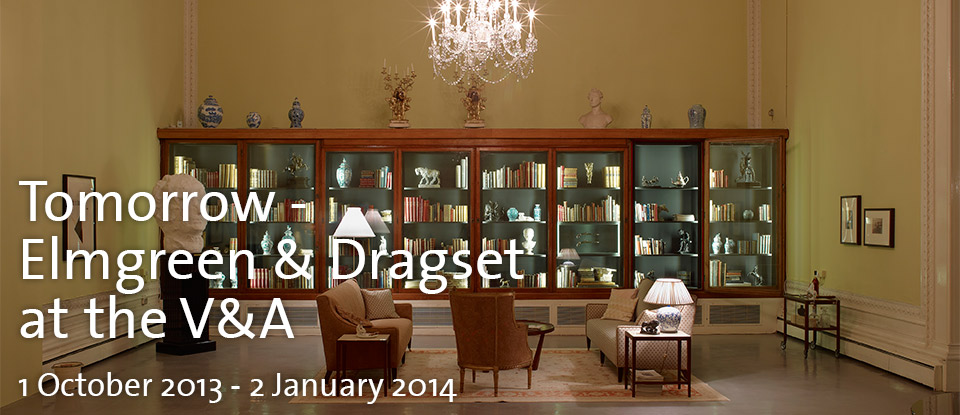 Tomorrow was a major site-specific installation created by Elmgreen & Dragset in 2013. You can read more about what I thought about it when I got to experience it here.
Tomorrow is an unrealised film script set in a fake London Apartment. It tells the story of Norman Swann, an elderly failed architect who is on the verge of bankruptcy and having to sell his inherited Kensington apartment in order to survive. On arriving in the Hallway of his apartment you find a pile of abandoned books, which contain the script to this unrealised film. You can explore Norman's apartment with other house guests who may choose to follow the script or just wander around and enjoy the space.

The key part of the experience is reading the film script while being in the space is incredibly powerful. You don't need things described to you in so much detail as you can simply walk over and pick up the item.
My suggestion is that we follow this format and use it as a guide for our own experiences. So the Twine interactive you make should be set in your own museum / public space. This will simplify the development as you can easily imagine your own space and then incorporate real objects from your collection into the game.
Visitors will be able to play the experience on their phone (as they wander around), you as the museum could loan them a tablet or you could install a TouchScreen in your gallery for them to play on. The hardware I suggest for in the Touchtable display tutorial is suitable for an in-gallery interactive.
So your task is:

We'll start by planning the experience on paper first before addressing the technical issues. The broad steps are: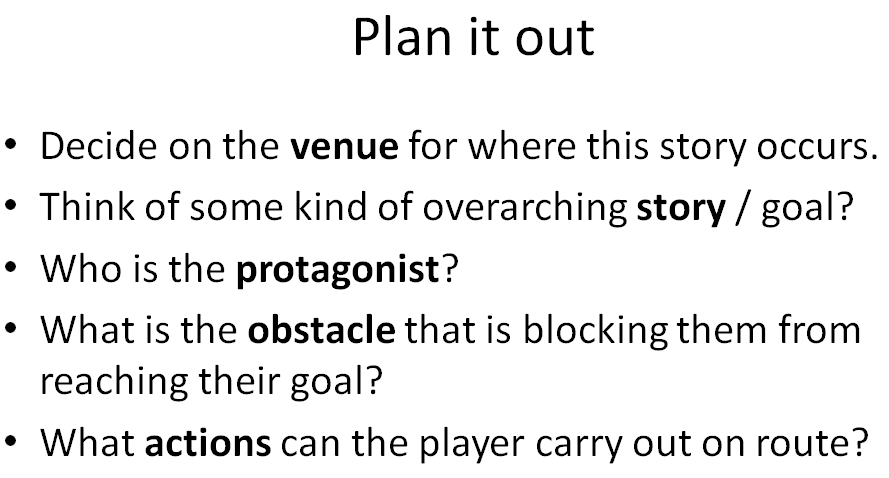 The process for planning out your game is covered in more detail in this: Planning your Narrative Game.
Once you have a rough paper version you can begin to develop it in Twine. This tutorial takes you through the steps to get your game up and running: Creating your Twine
If you want to add images and audio to your Twine game then this tutorial explains that in more detail: Advanced Twine
Once you're all finished it's a case of deciding whether to install your game in-gallery or let users play it as they walk around.